Great Job on Serviio!
Here is my contribution to the community, Stream Sirrius or XM radio from seviio to a dlna device
download SirriusXMStreamer from here
http://www.permanence.com/sirius/
(retired but available)
follow the directions to login and set up your feeds.
From SirriusXMStreamer, right click your favorite channel and copy the channel url as an MMS stream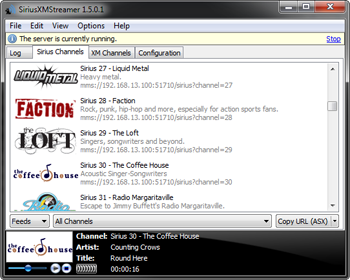 From Serviio console, add online content, audio stream and paste the copied URL
Someone much smarter than I can probably make a pugin to take full advantage of the streaming capability of SirriusXMStreamer, but I shared what I figured out! Cheers!