In order to run Serviio on the Zyxel NSA325 a number of steps are required. This hasn't been tested on other Zyxel models but the key enabler is the Fonz Fun Plug linux environment so the steps should be common for any NAS where FFP is available. You will need basic knowledge of linux to login via SSH and edit configuration files etc.
====== 1) Install FFP 0.7 zyxel package ======
Follow the instructions
to install the Fonz Fun Plug (FFP) Zyxel package.
Enable the package in the Zyxel admin pages and check you can SSH into the NAS.
====== 2) Add the various FFP site definitions ======
Follow these instructions
to add a number of extra FFP package locations.
====== 3) Install ffmpeg/lame ffp packages. ======
Add some additional ffp packages using the slacker installation utility:-
The root (su) password should be the admin password you have setup your nas with.
Now verify that ffmpeg is working:-
should give similair to:-
====== 4) Install Java ======
Follow these instructions
to install the headless (no GUI etc) version of Java for ARMv5
As the admin user (not root) verify java is working :-
should give similair to :-
====== 5) Install Serviio ======
As root (su) download the Linux serviio package to the nas:-
Set some permissions (Write for the library,log and plugin directories) :-
Create a symbolic link to the version for easier upgrades later :-
Create a temporary directory for Serviio
Create a FFP startup script
Edit the file and paste the following
Once saved make the file executable
We need to make some changes to the serviio startup script and the Options passed to Serviio i.e. specify the ac3_fixed encoder (
-Dserviio.fixedPointEncoders
) and temp directory for transcoding (
-Dserviio.defaultTranscodeFolder=/ffp/tmp
).
Edit /ffp/opt/serviio/bin/serviio.sh and find the line beginning "JAVA_OPTS" and change to
Change the last line that executes the Java to decrease the memory to
384M
:-
====== 6) Serviio should now start :- ======
To start serviio (On boot will start automatically)
Check the Java process is running
Should show both the serviio.sh and underlying Java process
Serviio can be stopped with
====== 7) Manage Serviio and add media ======
Install the Serviio console of your choice (e.g. Windows Serviio package and select console only) and
configure to remotely manage the NAS
instance of Serviio.
To add a folder you need to use the relevant linux path on the server. e.g. for a single mirrored pair of disks that would be:-
e.g.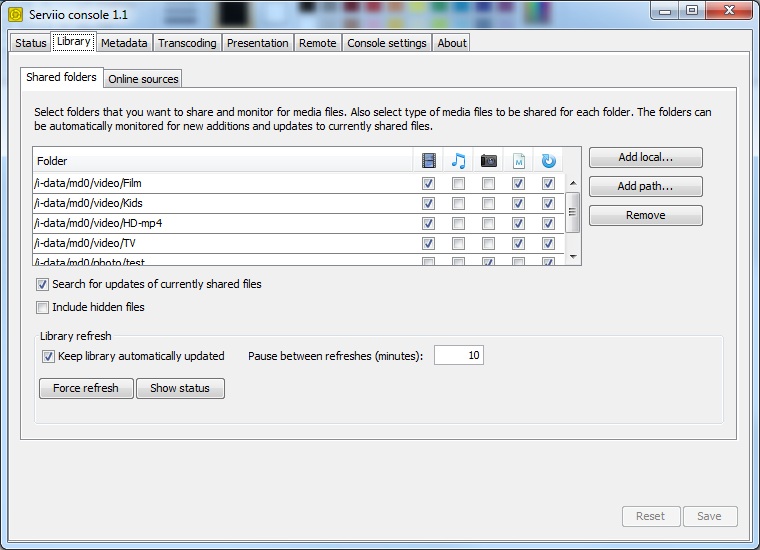 I wouldn't recommend the NAS is allowed to generate thumbnails as it drives the CPU quite hard. Initial loading of the library will also work Java and ffmpeg hard until fully scanned
Last edited by
DeanoX
on Tue Jan 22, 2013 8:42 pm, edited 1 time in total.
Zyxel NSA325 running Serviio 1.1 | Sony Bravia 2011 KDL-24EX320 / KDL-40EX723